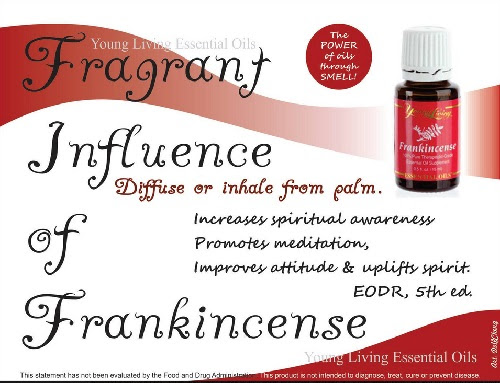 Graphic by Dolf Cheng
Recently my colleague Dr. LeAnne Deardeuff mentioned how much she loves Frankincense and what it has done to improve her life and health. She mentioned how frankincense helped her get rid of headaches. She also said, "I vita-flexed it on my pituitary points on my feet and head. I rubbed it in the roof of my mouth.  I began to learn that it focused my fuzzy brain and made me more alert and able to work better. Energy was soon restored. I felt that I might just have some "brilliancy" in that head of mine. Health was being restored."
She even says she mixed a few drops in fresh raw cream and drank it — the emulsified fat quickly delivered the precious essential oil to every cell of her body. What a great idea!
For me, when I was having great difficulty with asthma and chronic bronchitis, inhaling Frankincense immediately eased the spasms in my lungs. In fact, the first time I did that, my lungs sent a message to my brain that said, "THANK YOU!"
Authentic, pure, therapeutic grade Frankincense doesn't come cheap. It is easy to feel like it is too expensive to use.  But let me toss out another thought from Dr. LeAnne: "Now with the type of healing I am doing with Frankincense it isn't expensive to me any more. It is vital. My health is worth so much more then letting that precious oil sit on the shelf being seen but not touched. It is meant to be used."
I couldn't say it better. What is your health worth to you?
To learn more about how to purchase Young Living products, please visit my website and contact me.
These statements have not been evaluated by the FDA. Information, products and/or techniques mentioned is provided for educational purposes and not intended to diagnose, treat, cure or prevent any disease. Consult with the health authorities of your choice. The decision to use, or not to use, any of this information is the sole responsibility of the reader. Don't expect the same results unless you are using Young Living Therapeutic grade essential oils and supplements. The author assumes no responsibility to or liability for any loss, damage or injury resulting from the use or misuse of any information provided here.